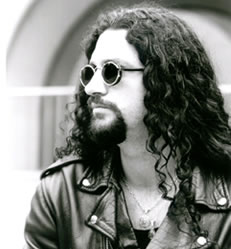 Keith Flynn grew up singing in a small country church, Enon Baptist. His first gig, he laughingly recalls, was at age eight, when his mother paid him twenty-five dollars to sing Amazing Grace at a stranger's funeral. The love of music continued and grew, even though he studied both literature and political science at Mars Hill College and the University of North Carolina at Asheville, attending the former on a basketball scholarship and intent on becoming an attorney when his studies were concluded. By age twenty-two, however, Flynn had begun to sit in with various local bands, collaborating with several musicians and composing songs from the lyrics and poems that he was publishing in a variety of national journals. His love of blues and gospel music were wed to the hard-driving rock arrangements from the 1970's and early 1980's, forging a unique vocal style, with lyrics penned by a classically-trained poet.
Flynn's talents for writing and singing had begun to blossom by 1987, and he relocated to Nashville, TN, forming the acclaimed rock group, The Crystal Zoo. "The Crystal Zoo is something like you have never heard before, raw guitar-driven performances and in-your-face musicianship.The message is the icing, crystallized in Keith Flynn's searing vocals and apocalyptic poetry.Don't miss it. . .these guys are the sauce!" raved Jim Rezac of The Dover Post. Touring widely in the United States and Europe, the band produced three albums: Swimming Through Lake Eerie (1992), which was recorded in Nashville and Memphis, Pouch (1996), the band's indie label debut recorded at the world-famous Power Station in New York, and Nervous Splendor (2003), an innovative compilation of music and spoken-word poetry from each of Flynn's first four books. While touring upwards of 250 shows a year until 1998, he also founded The Asheville Poetry Review, the literary journal established in 1994 that continues to set new standards for excellence, publishing over 1500 writers from 22 different countries, culminating in the 2006 Special Jazz Issue which features poems, essays, interviews, translations, and book reviews from some of the world's finest writers, critics and musicians. The 2019 Issue marks the APR's 25th year: a celebration of dedication and excellence.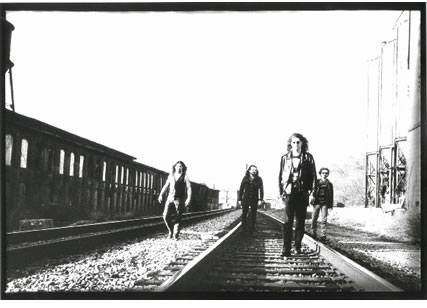 Keith Flynn & The Holy Men LIVE at Diana Wortham Theatre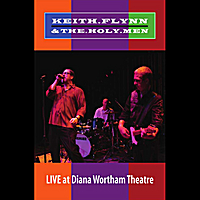 http://www.cdbaby.com/cd/keithflynnandtheholymen
Nervous Splendor

Released in 2003, Nervous Splendor is a ground-breaking compilation of poems read from Flynn's first four books, and new songs co-written with former Crystal Zoo bandmates. Recorded in New York and Memphis, the album is a sonic pastiche, using a mixture of bluesy, a cappella vocals and full instrumental accompaniment to create a narrative overview of Keith Flynn's entire career to date. "Keith Flynn is a medium and his journey from a street-fighting, backwoods youth to a performer and workshop leader sought by seminars and coffee bars from Cambridge to Cancun, makes him a seminal force in poetry. He seeks to be a voice for the dispossessed and the combination of his unacknowledged role as champion, and his acknowledged role as shaman, lead him to express the underdog's plight with rock-gospel charisma and riddle-like revelations," writes Rob Neufeld for his Choice Books column.
Pouch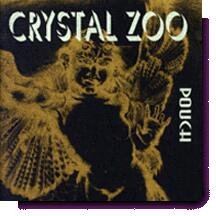 From its opening, the unleashed attack-dog riffs in The Lament of Alasto Wilder to the diminished chord crescendo that concludes a searing cover of Jimi Hendrix's Freedom, Crystal Zoo's first album, Pouch, prowls that edgy-border territory where word becomes scream, a groove that widens and deepens with each successive post-Zep, post-Hendrix monster riff. This 1996 release, produced by Victor Deyglio (Guns-n-Roses, Lou Reed, Eric Clapton) at New York's famed Power Station Studios, captures a rising southern quartet in full command of their powers. Pouch is first and foremost a groove thang, churning with tension and a high wire majesty, the jaw-dropping dead stops and supersonic roar of a well-oiled rock machine.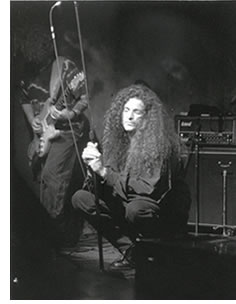 "Pouch is power rock, clean and pure enough to define that term," writes Martin Fullington in The Indie File. "The band just churns, drums and bass thumping out melody lines of funky rhythms relentlessly, and the guitar of Bill Altman has a broad sonic palette that includes ominous chords, tormented rapid-fire leads that range in mood from mega-blues to sci-fi in a perfectly executed display of how much power and emotion an electric guitar can generate. Center stage in all this rush of electric energy is Keith Flynn's voice, a perfect example again of how a good rock singer will roam from subtle, sensual quiet tones to piercing displays of primal yowling. Pouch is the document of a band of hard rock savants chomping at the bit with the pent-up energy of young punks."
Swimming Through Lake Eerie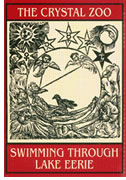 This first album by The Crystal Zoo, is a collection of songs co-produced by guitar impresario, Warren Haynes, in Nashville, Tennessee, that were recorded between 1987 and 1990. Jim Gardner, in his column, Ear Plug, had this to say about Swimming Through Lake Eerie: "Like a true rock god, Flynn squeezes every possible drama out of each sung syllable, and though he largely refrains from the banshee screams so typical of hard rock front men, Flynn's lyrics are no less passionate for their intellectual seriousness. The topics here range from sin to salvation, from rural drama to urban despair, and the songs are soaked in images that allow the listener to flex their own imagination. The band is endowed with a considerable instrumental prowess, spearheaded by the facile guitar work of Matt Sluder. From monster riffing to jazzy comping, Sluder is a relentlessly imaginative guitarist, on a par with the best hard rock, metal, or fusion players. His wah-wah sorcery on "When The Dragon Comes" and his rapid-picked fury over a stop-time power vamp at the end of "Every Trick In The Book" are prime examples of his mastery. But it's The Crystal Zoo's knack for contrast and dynamics–being able to shift from scream to whisper–that ultimately shapes their sound, which is light-years past Pearl Jam."
Music