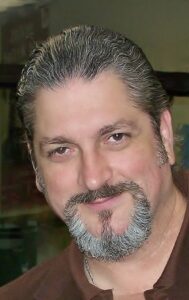 "Flynn's words need to be read aloud for the full dramatic impact," writes Jennifer MacPherson in The Comstock Review, "but even on the page, they mesmerize the reader with their historical significance and startling juxtapositions. These are original, passionate, vigorous and musical narratives that roam the full spectrum of the art. Keith Flynn is a true original, and a national treasure."
As a widely traveled poet and performer, Flynn has always used different voices to accomplish his aims.  Serving as lyricist and lead singer from 1986 to 1998, Flynn's poems were blasted to full effect by the double-barreled sonic accompaniment of The Crystal Zoo, which produced three albums: Swimming Through Lake Eerie (1992), Pouch (1996) and Nervous Splendor (2003), an innovative compilation of music and spoken word.  Flynn is currently on hiatus with his most recent group, 3-man combo, The Holy Men, whose first album, LIVE at Diana Wortham Theatre, was released in 2011.  (See LIVE at White Rock Hall below for his current musical offerings.)
Catch the new radio show at https://wpvmfm.org/best-of-wpvm/ . Tuesdays from 5 to 6pm and Thursdays from 9 to10pm, Flynn offers a dynamic hybrid of poetry, music, and history woven together in an exciting narrative. Each show's theme sets poetry and songs in vivid dialogue with one another, creating an informative and surprising hour that offers a wide range of musical and poetic genres. Hosted by the award-winning poet, producer, editor, and vocalist Keith Flynn, it is broadcast from the studio at White Rock Hall, in the retrofitted sanctuary of a 100-year-old Appalachian church. (www.liveatwhiterockhall.com).
Flynn is also the author of eight books, six collections of poetry: The Talking Drum (1991), The Book of Monsters (1994), The Lost Sea (2000), The Golden Ratio (2007), Colony Collapse Disorder (2013), and The Skin of Meaning (2020). His first collection of essays, The Rhythm Method, Razzmatazz and Memory: How To Make Your Poetry Swing, was published by Writer's Digest Books in 2007 (a tornado speed tour through modern and postmodern poetics. . .and one of the most engaging, soulful, generous, and truly exciting books I have ever read–Fred Chappell.) "[The Rhythm Method] is destined to become a classic reference and teaching resource." -The Writer's Digest Roundtable of Editors
Flynn's latest book, Prosperity Gospel: Portraits of the Great Recession (2021), a collaboration with photographer Charter Weeks, is a photographic journey through Appalachia's resilient culture. Underscoring this tour-de-force photographic essay of the dwindling middle class, Flynn's prose gives voice to the displaced, and often homeless most affected by The Great Recession of 2008, which is still undermining middle America. Glenn Ruga, Founder and Director of the Social Documentary Network, says: "Keith Flynn and Charter Weeks have added to the long tradition in the US of documenting the pitfalls of unbridled capitalism. . . . devastated communities across America provide the backdrop for these remarkable portraits and testimonies . . . Kudos to Flynn and Weeks for this important contribution to American literature."
Keith Flynn's poems have appeared in hundreds of magazines, journals, and anthologies in the United States and Europe, including The American Literary Review, Ecotone, Cave Wall, The Poetics of American Song Lyrics, The Carolina Quarterly, The Colorado Review, Crazyhorse, The Cuirt Journal (Ireland), Earth and Soul: The Kostroma Anthology (Russia), The 20th Century Anthology of NC Poets, Poetry Wales, Takahe (New Zealand), Margie, Shenandoah, Quarterly Review (Singapore), Rattle, and The Southern Poetry Review.
He has been nominated for the Pulitzer Prize, and the National Book Award, was awarded the Paumanok Poetry Prize in 1996, and the 2013 North Carolina Literary Fellowship. Flynn has given thousands of performances from his work across North America and abroad. In 2005 and 2006, Flynn served as the Gilbert-Chappell Distinguished Poet for North Carolina, working to promote the cultural importance of poetry in his home state. He is also the founder and editor of The Asheville Poetry Review, a literary journal established in 1994 that has published over 1,500 writers from 22 countries.
---

Both a visionary and pioneer, Flynn's work has been described as "politically incisive," "emotionally dramatic," "raging and visceral," and Flynn himself as "an American Rimbaud," and "a provocateur with a tender heart." Certainly Flynn's readings of his work, which often include a cappella blues and gospel songs, are shifting the perception of what a poetry reading can and should be — evocative, highly original, and dynamic. Flynn lives and works in the beautiful Blue Ridge Mountains half an hour north of Asheville, North Carolina in the heart of Madison County.

---
See Keith as host and performer in LIVE at White Rock Hall,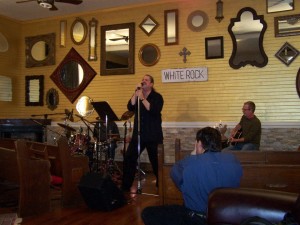 the dynamic blend of LIVE music and poetry spontaneously fused and presented in the beautiful sanctuary of White Rock Hall, the 100-year-old church nestled in the Blue Ridge Mountains of his native North Carolina.
…
Keith Flynn (b. 8-4-62), attended Mars Hill College and the University of North Carolina at Asheville (UNCA), where he studied Creative Writing and Political Science, and in 1985 won the Sandburg Prize for Poetry. He moved to Nashville, Tennessee in 1987 and formed the nationally acclaimed rock band, The Crystal Zoo, winning the ASCAP Emerging Songwriter Prize for his stunning lyrics.