Flynn is the author of six collections of poetry: The Talking Drum, The Book of Monsters, The Lost Sea, The Golden Ratio, Colony Collapse Disorder, The Skin of Meaning, and two collections of essays:
The Rhythm Method, Razzmatazz and Memory: How To Make Your Poetry Swing.
Prosperity Gospel: Portraits of the Great Recession (with Charter Weeks, photographer)
His poems have appeared in hundreds of magazines, journals, and anthologies in the United States and Europe, including The American Literary Review, Ecotone, Cave Wall, The Poetics of American Song Lyrics, The Carolina Quarterly, The Colorado Review, Crazyhorse, The Cuirt Journal (Ireland), Earth and Soul: The Kostroma Anthology (Russia), The 20th Century Anthology of NC Poets, Poetry Wales, Takahe (New Zealand), Margie, Shenandoah,Quarterly Review (Singapore), Rattle, and The Southern Poetry Review.
---
Prosperity Gospel: Portraits of the Great Recession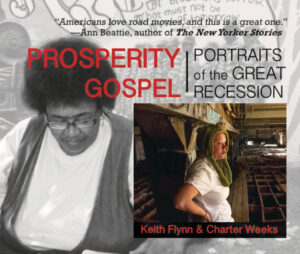 Brand: 
Redhawk Publications
From the outset, Charter Weeks and I wanted to show the true faces of the Great Recession. Many people who had previously found it easy to support themselves were now faced with impossible choices, and the simple ideas of security, safety, and nourishment were fragile in this new working environment. The underpinnings of our society were crumbling as more and more people didn't explode from a single crisis but were worn down from repeated defeats and the safety net that had once guarded a growing and robust middle class was now frayed and illusory and could no longer be counted upon. Most people are not gobsmacked into poverty, but erode into it, slowly and incrementally, as each of their previously viable options are taken away, one by one.
What became an examination of the Recession and its effects morphed into a narrative of resilience and dignity as people faced with unforeseen choices learned to work around them, became entrepreneurial, even cagey, and adapted to their circumstances in ways that they themselves could never have envisioned. Some were forced to change their philosophies or previous methods, and still, others were faced with brutish challenges they thought did not exist and learned how to survive from day-to-day.
Praise for Prosperity Gospel:
          "In 1936, James Agee and Walker Evans travelled to Hale County, Alabama, to document the lives of tenant farmers there, and to try, as Agee put it, to make "a photographic and verbal record of the daily living and environment of an average white family of tenant farmers." Agee hoped that beyond this documentary dimension, the work might stand as "an independent inquiry into certain normal predicaments of human divinity." Their book, Let Us Now Praise Famous Men, is widely regarded as a classic of American nonfiction literature. Flynn and Weeks' Prosperity Gospel is destined for the same high and lasting regard."  —Richard Hoffman for Solstice, a magazine of diverse voices
_____
THE SKIN OF MEANING
The Skin of Meaning is award-winning poet Keith Flynn's sixth and most wide-ranging collection, seeking to find the tangible analogs and visceral meanings hidden behind the daily bombardment of digital information and hoping to restore the mystery in our involvement with language. From the etymologies of pop culture, history, astronomy, and rock and roll, these poems fan out into a bold multiplicity of voices and techniques. Flynn's work illustrates the meaning that is also created through tense collisions and is populated with figures in resistance to the status quo, a gathering as varied as Caravaggio, Nina Simone, Gaudi, Villon, Wonder Woman, and Manolete. The final section examines America's fascination with violence and death, revealing that a human being in love with mystery is never finished. This collection constantly challenges our assumptions about the world we think we see and is teeming with evidence of another invisible world bristling like an underground river beneath our feet.
PRAISE
For some time we've been waiting for a poet to appear who could adequately confront the vast and deliriously complex matter of the USA, its people, its art, its material and popular culture, its misdeeds and its election mistakes. Also, one who could respond to the artistic legacy of Europe. Keith Flynn is that poet. His range is wider than any poet's I'm aware of, a range matched by his varied diction and his fluent mastery of syntax. The apparent ease he brings to this thorny project is one of the work's most impressive aspects. I urge readers to greet this book with the praise it deserves." Alfred Corn, author of Unions
"Keith Flynn is a brilliant, bodacious poet at the top of his sonic, linguistic game in this new volume of poetry, The Skin of Meaning, with poems that dance off the page in arpeggios of flight, gripping the reader's imagination and taking American poetry in a new, exhilarating direction." Quincy Troupe, author of the recent books, Ghost Voices, Seduction and the memoir, Miles and Me
PUB DATE: April14, 2020
ISBN: 978-1-59709-848-9
SIZE: 6 in x 9 in
FORMAT: Trade paper
EXTENT: 184pp tentative
Colony Collapse Disorder

Wings Press, 2013/  ISBN:  978-1-60940-294-5 Paperback $16
"The poems of Colony Collapse Disorder form a geopolitical abcedarium that lives up to Keith Flynn's reputation as a seminal force in poetry . . . a voice for the dispossessed . . . with rock-gospel charisma and riddle-like revelations." (Choice) "Keith Flynn is a hinge-hipped healer, a blues growler, a soul surgeon, and a hungered kiss for the ears. His gritty gospel is fiery and unerring and his language is jolting, tender, as dependable as pulse."  –The Boston Globe
Praise for Colony Collapse Disorder
"Keith Flynn's lyrical travelogue, a revolution of sound and story, celebrates the reader as witness.  Not only are we transported to gorgeously-crafted locales, but we are rooted there by the poet's unerring narrative, transforming each poem is a facet of light, an illuminative hallelujah.  Scan the poetic landscape all you want–but you won't find anything like this."  —Patricia Smith, author of Blood Dazzler
"Colony Collapse Disorder is a book of journeys, journeys across the world, journeys of conscience and witness, journeys of spiritual discovery. Flynn is one of our finest contemporary troubadours, heir to Bop, to the Beats, the poetry of Rock and Roll, the roar of Walt Whitman, and the seduction of cinema.  He is a poet of overwhelming energy, in rebellious ballads, stunning life riffs, and wry meditations.  In this work we feel a relish for both improvisation and craft, in delicate lyrics of longing, in songs of protest, and progressive commentary and today's violent and chaotic news.  Like the best music, Flynn's poems bind us together with a shared sense of failure, challenge, joy and love." —Robert Morgan, author of Terrior
Links to Reviews of Colony Collapse Disorder: Â 
Jasper Magazine  Verse Daily Smoky Mountain News  The Read on WNC
Purchase Colony Collapse Disorder: Wings Press
The Rhythm Method, Razzmatazz and Memory: How To Make Your Poetry Swing
Published by Writer's Digest Books, 2007 ISBN: 978-1-58297-404-0 Paperback $16.99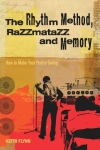 Poetry and music have long been active bedfellows and in some cases it can be nearly impossible to separate the two. Whether dissecting Beatles lyrics or tapping out the beat to a Shakespeare soliloquy, the essence of poetry begins in rhyme and rhythm. Award-winning poet Keith Flynn understands this better than anyone. Combining a survey of the history of poetry with lessons for making   all of your words swing the way they should, The Rhythm Method, Razzamatazz, and Memory is the ultimate learning tool for poets who want to find their perfect melody.
Flynn shows you how to tap into the music in your head and make your poetry dance along. Focusing on the stages of poetry, Flynn helps you build rhythm from the ground up, and explores the development of modern poetry at the same time, making sure that all the influences that made poetry great as a whole are also influencing your work.
From Sylvia Plath to hip hop and poetry slams, he examines the growth of poetry and music while simultaneously delivering expert advice on form, description, influence, and most importantly, sound. Flynn reveals how to create poetry that begs to be read aloud, poetry that resonates in the air, the imperative need for a poet to deeply listen to his or her inner voice. The Rhythm Method, Razzamatazz, and Memory will make sure your voice keeps up and keeps time.
---
The Golden Ratio
Published by Iris Press, 2007 ISBN: 978-0-916078-94-2 Hardcover $26.00 ISBN: 978-0-916078-95-9 Paperback $16.00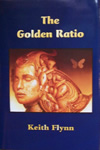 Keith Flynn's fourth and most innovative collection of poems to date, The Golden Ratio, is filled with themes of music and balance, creating a literary world in opposition to our discordant contemporary times, where the human population is at odds with one another and the Natural World, out of sync and unfocused, spiritually and physically adrift. The book's six sections deal separately with the state of our government, our art forms, and our relationship and responsibility to the society that surrounds us. This book is a tour de force by one of our most distinctive poetic voices, seeking to redefine what it means to be human and creative in the face of overwhelming opposition.
Praise for The Golden Ratio
In this new book, The Golden Ratio, Keith Flynn has achieved wonderful new heights, not only with language and the American vernacular, but with an immense historical sense and passionate individualism. The poems in this rich new collection zing with tremendous resonance I'm elated to be able to acclaim Flynn's poetry and voice as being absolutely necessary in this country's vast and diverse poetic landscape. This is certainly a must-own, must-read volume of poetry by one of our very best contemporary poets!

Virgil Suarez, 90 Miles: Selected & New Poems

Keith Flynn is a titanic poet whose vigor draws us into the illuminating questions of the soul and its elusive, various lights. These are wildly inventive poems to be shared and savored aloud. I found myself dancing around the house with Flynn's words vibrating in both ears. Here is a poet who lives by the word, whose warm springs overflow with energy and brio, whose poems ring equally with all the beauty and peril of life.
Menna Elfyn, Cell Angel and Blind Man's Kiss
Keith Flynn's magnificent The Golden Ratio is a brilliant collection in which, over and over, Apollonian and Dionysian elements conjoin then fly ecstatically apart, like a troupe of Chinese acrobats. Try a poem or two; you'll likely want to own the book. Read the entire Chang and Eng suite and you just may find this book has taken possession of you. For Flynn is a bard, the real thing, an artesian singer-sayer, tough as a harp, tender as a jailhouse file. He cunningly smuggles intellect and learning into topics so engaged that flying barefoot through the lion's gate, you might even imagine you are being dazzled not by the poet, but by the world itself.

William Pitt Root, White Boots: New and Collected Poems of the West
_____
The Lost Sea
Published by Iris Press, 2000 ISBN: 0-916078-51-5 Paperback $13.00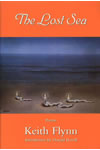 Keith Flynn's third collection of poems uses spectacular and musical language to address a wide range of crucial social, political and moral issues. These poems honor the visceral connection of the body and the physical world. Donald Revell's essay at the beginning of The Lost Sea is a rare event: an introduction as finely crafted as the text it opens. Revell runs his finger along the seam between music and poetry: "Flynn's poetic vision is a music, immediate, large and cosmologically local, wherever it happens and however it happens to transpire. In The Lost Sea, language is cleansed of second-hand representations and once again acquires, like Henry Thoreau's Concord bells, sacred presence to one and to any one inclined by soul to hear."
  Praise for The Lost Sea
"Full to brimming," the poems of Keith Flynn's dazzling new collection, The Lost Sea, give no quarter. The ebullient range of unruly references and the fabulously rich lexicon combine to stretch the limits of coherence into a compelling, original style, Here, "flesh and mud meditations," narratives unfolding like petals, dramatic monologues and surreal juxtapositions run together just ahead of an exclamation mark. The poems are politically incisive and emotionally dramatic. They careen toward the reader with unlikely energy, with the music of a mind awake."

– Forrest Gander
"Keith Flynn's wide-ranging poetic vision often takes him beyond the pale of much contemporary American verse. The poems in The Lost Sea can take on such far-flung topics as surrealism, cinema, music, politics, and post-modernism and make them spin with energy and wit. There is humor and history and a large helping of erudition in these poems. Flynn is a provocateur with a tender heart who possesses the scholar's respect for tradition and the artist's hunger for innovation. His world is large and always interesting, and he journeys through it with great elan."

– Kathryn Stripling Byer
_____
The Book of Monsters
Published by Urthona Press, 1994 Second Edition by Animal Sounds Press, 1996 ISBN: 1-889276-01-4 Paperback $12.00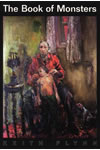 "We expect our poets to go on dangerous missions," says Rob Neufeld, describing The Book of Monsters, "into realms of personal psychology and social reality, and return changed, bearing new music. The motive for the journey is the sense that something is terribly wrong in our lives. This is no easy task because there are plenty of folk who can advocate temperance and condemn the malcontent. The poet's return to society, therefore, better bring with it something that glows with renewed faith or smacks of truth. In this amazing collection, Flynn finds redemption for a mad clatter of castaways, villains, lost lovers, and forgotten heroes."
Praise for The Book of Monsters
"These poems remember, as Heidegger said, "the oldest of the old follows behind us in our thinking, and yet it comes to meet us." Keith Flynn writes raging visceral poems, searching out the dark corners of feeling, of need and surrender, so as to make the heart and body one. He is an American Rimbaud, whose morality is stronger than the Academy's or of the institutions which claim to govern us."

– Jeffery Beam, author of The Fountain and Visions of Dame Kind
"Keith Flynn is dungareed griot, hinge-hipped healer, a world rover with a heart where his pen should be. He's a blues growler, a soul surgeon, a lover of momentum, a hundred kiss for the ears. He is deft and delicate, fiery and unerring. In these pages, he sees through to the bones of lovers and warriors, strangers and fools. According to his gritty gospel, we are all the monsters. And with this book, he has given us language–jolting, tender, as dependable as pulse."

– Patricia Smith, The Boston Globe
"In The Book of Monsters, Keith Flynn rides the wave of a 'fearful equilibrium,' celebrating all that is vivid, tender, and mysterious in our lives. He knows the "bright rainbow landscapes of the damned"–where the mind and spirit compete for dominion and where the wrenching potencies of contemporary life deepen their hold over selfhood. In these beautiful and often startling poems, Flynn brings us nearer to ourselves."

– Charles Fishman, author of The Death Mazurka and The Firewalkers
_____
The Talking Drum
Published by Metropolis Communications, 1991 Second Edition by Animal Sounds Press, 1996 ISBN: 1-889276-00-6 Paperback $12.00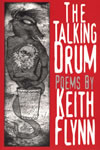 Flynn's first collection, published in Nashville, Tennessee in 1991, gathers poems from the first ten years of his literary career. From long poems to smaller bursts of lively and lyrical language, The Talking Drum foreshadows the stunning imagery and unique voice that are hallmarks of Keith Flynn's later work.
"Those who know contemporary poetry," writes David Brendan Hopes, "will be amazed to find intelligence and passion in a rare conjunction. These poems attempt so much, so many points of view, so many outcroppings of verbal pyrotechnics, so many moments of hardwon empathy. These will be the very virtues cited by its admirers: inclusiveness, abundance, splendor of expression, understanding almost wholly without judgment, judgment almost wholly without malice. There is learning and immersion in the great tradition of American letters, but Flynn's poems actually transform the world and its objects into personalities that are graceful, fallible, feminine, and most importantly, saved. It is a lucky break to have Flynn and his many talents among us."