Readings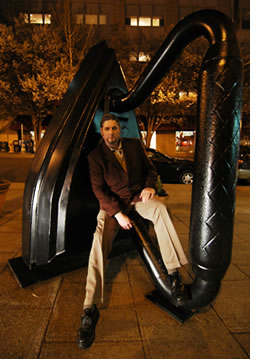 Keith Flynn presents his work with an immediacy and skill few poets can match. L. D. Russell, writing for The Independent Weekly, says in his review of Flynn's book, The Lost Sea: "Keith Flynn weds the sublime and the visceral in his new book of verse. How many times have you picked up a book of poems, read a few lines and, no matter how beautiful the language might be, you say to yourself, "What the hell was he talking about?" before replacing the book on the shelf and moving on to more prosaic reading? Never more than in the recent heyday of postmodern lit-crit, poetry has been kidnapped by academics and left to rot in the dank dungeon beneath their ivory tower. . . Flynn's muse is muscular, immanent, incarnate. Stealing poetry back from the pencil-necks, he wields it like a double-edged sword of the spirit, to ward off the deadly chill of disembodied solipsism. . .he sets both feet squarely in the mountains of North Carolina and holds forth his vision of spirits in the material world , like a prophet crying in the wilderness of our own back yard."
A reading with Keith Flynn is unlike any other–and not soon forgotten. The lead singer and lyricist for the acclaimed rock band, The Crystal Zoo, Flynn is well practiced in capturing the attention of his audience, stilling rooms with a whisper one moment and raising the roof with a scream the next, all sounds at the service of his smoky blue, darkly melodic voice. Describing a reading, Joe Napora of The Small Press Review, says: "Keith Flynn is a poet that understands the music of language and he is driven by monstrous forces threatening to thwart desire "out there" and within. Imagine Blake doing rock and roll, filled with the spirit of Howling Wolf and Bill Monroe." Flynn's words are as rhythmic as the a cappella songs that he weaves throughout his poetry. Those watching not only hear the message, they feel the message in their bodies. Many students, inspired by this offering, have found their belief in poetry resurrected after Flynn's time with them, that their idea of what poetry is has been changed.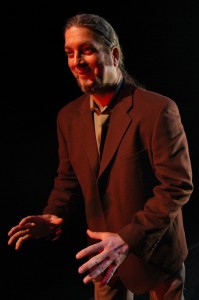 "Flynn is a poet from Appalachia who has harnessed the power of this ancient art–the manipulation of spoken word–and who uses it as a mystic would, to part the seams of the mind to plant the truth of language and life," writes J. Reed, in the Barnes and Noble Newsletter. "He takes essence of the everyday and dips it in a potion of surrealist clarity, making his own formula for speaking the truth. . .if you have never heard him perform his poetry for an audience of silently seated, hypnotized listeners, you have truly missed one of the most intensely beautiful experiences that the art of poetry can offer."
Flynn has given thousands of performances over the last twenty-five years to audiences on three continents, in theaters, universities and coffee houses, with his band and as a teacher and lecturer. To sample Flynn's work, check out the solo recording, Nervous Splendor, a bluesy compilation of music and spoken word that serves as an overview of his unique and scintillating style.

by Keith Flynn